CONVENTIONAL HOME BUILDER IN CROCKET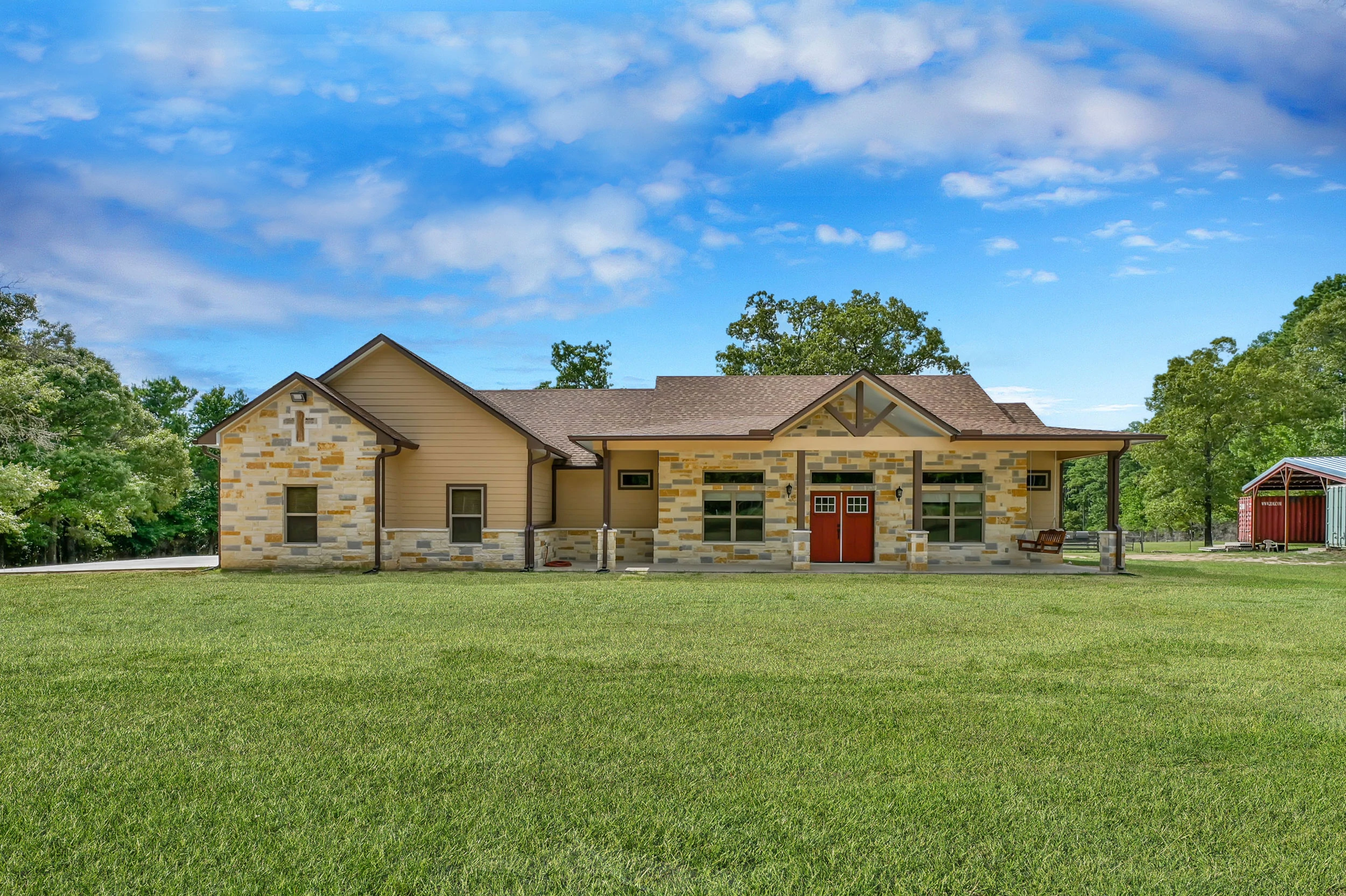 Your new Crockett home is where you will live, relax, and create memories with your family and friends. Turnkey specializes in designing a custom home to fit your life. We aspire to have you leverage our experience as a local Home Builder and Barndominium Construction Contractor to figure out how to build a home to fit into your family's life.
For this home build, our client started by clearing the forest. With careful design she built a beautiful rolling pasture for her horses. Behind the fence and barn she built a pond in the middle of the green field. With every detail laid out, it was time to build her dream home.
This project demonstrates a great example of working with a client's vision and how we can help make that dream become a reality.  Our client worked with her designer on every detail of her new custom home that she dreamed of building on her land outside of Crockett, TX. She had lived on her quiet property outside of town for years and had worked hard on every detail.  Take a tour through this beautiful home.
Mrs. Byrd is someone who knows what she wants! She found a designer that she enjoyed working with and could get her vision out on paper to interview builders. She seemed to run into builders with their own agenda about how her house should look and feel after she had already gone through every detail.  She just needed someone that would work with her to make her dream a reality. After all, this was her dream house, not the builders.
Turnkey enjoyed working with Mrs. Byrd throughout this build starting with our loved for her design. The exterior of her home is beautiful. The James Hardie plank siding and trim will be low maintenance and will give the home a timeless look for years to come. The personal touches like the blue porch ceilings and inlaid cross high on the front wall of the home are the best part.
The inside layout and design of this home will make living here very enjoyable too. Grand kids were a big part of this design and when the little ones visit they will have a great space that shows our client had them in mind with every decision.
The large garage gives easy access to a hall next to the kitchen and the grand open room really makes you feel at home. Our client's love of cedar peeks out with the family porch swing we helped out with refinishing, but really shows in the mantle above the stone fireplace that sits between two large patio doors that give access and view across the field behind her home.
The kitchen is the ultimate gathering place and this one is spectacular. Planned around her appliances every detail is thought out. The special kitchen counter height of 42" makes it easier for her to work in this space. The granite countertops tie in to the modern white Arabesque backsplash and are accented with under cabinet lights. The pendant lights over the island and the over cabinet lights tie it all in to give you a warm feel. Right off the kitchen is a dining room and on the other side a huge walk-in butler's pantry with lots of cabinets and built-in storage space.
The master suite is another site to see. With access to the utility room and the master closet, this design lives well every day. It is a dream come true for your laundry to be a door away from your master bathroom.
Time spent in this bathroom will feel more like a luxurious spa. The dedicated knee space vanity surrounded by the two vanity sinks makes getting ready in the morning its own experience. Our client had a friend refinish her antique claw foot tub that she had been planning a spot for all along. With the large custom shower on the other side of the glass from the tub and the natural light, makes this wet room one of the most beautiful rooms in the home.
Turnkey enjoyed working on this home with Mrs. Byrd from start to finish. We are honored that she chose us to turn her dream into her home. Thank you from our entire team!   We are excited for your family to make beautiful memories in your new custom home.
Turnkey looks forward to meeting with you to make your new Crockett Barndominium Home Build dreams come true.