Your new Huntsville home is where you will live, relax, and create memories with your family and friends. Turnkey specializes in designing a custom home to fit your life.  We aspire to have you leverage our experience as a local Home Builder and Barndominium Construction Contractor to figure out how to build a home to fit into your family's life.
For this Hacienda Spanish Style home build, let's begin our tour by passing the gorgeous surroundings provided from Landscaping by Cactus Jack Designs.  The custom home build had every detail meticulously planned, both outside and inside.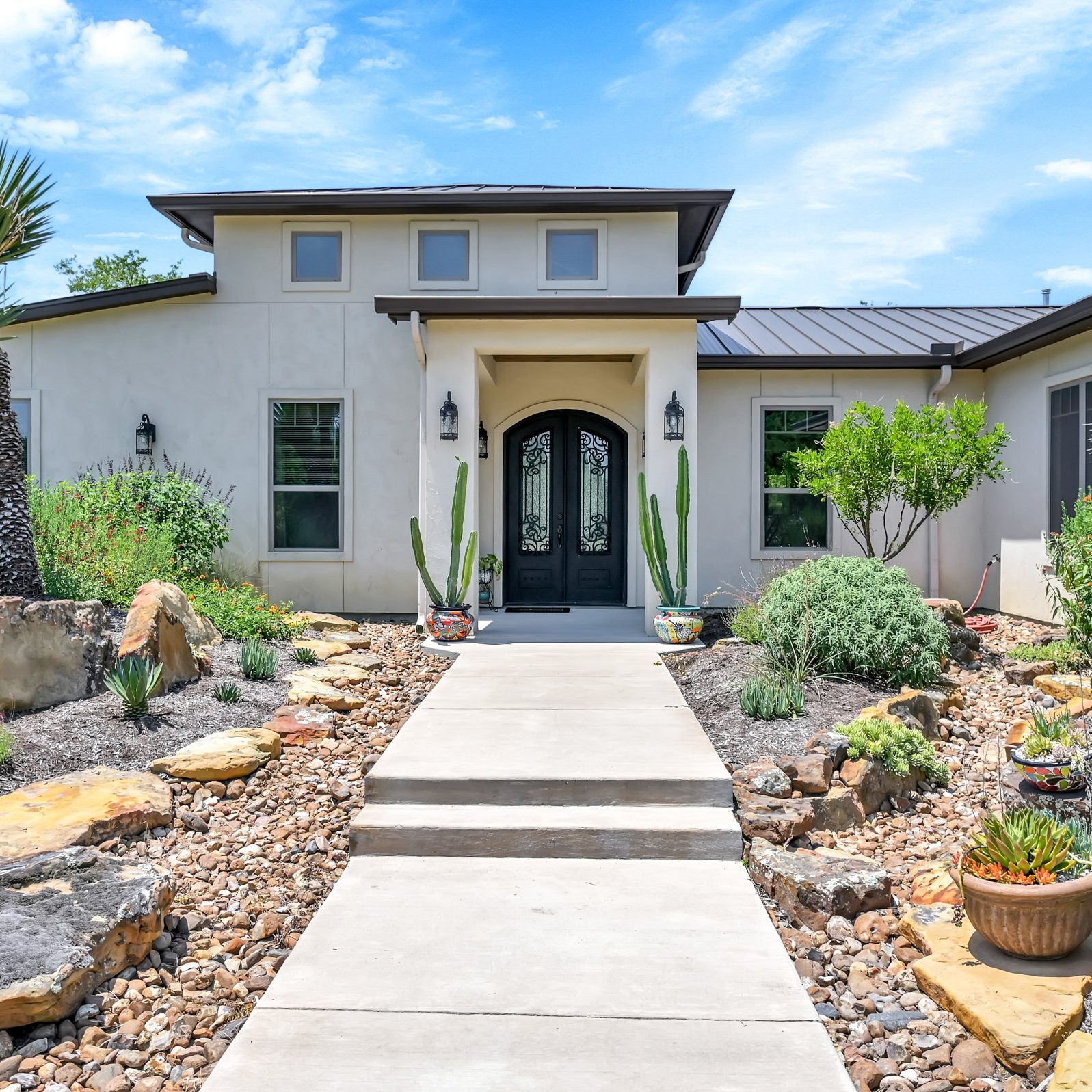 This project demonstrates a great example of starting with a vision and how we can help make that dream become a reality.  Take a tour through this beautiful home.
We begin by entering the iron front doors.  That is complimented by the hand-made Mexico San Felipe and Fleur de Lis shaped Saltillo tile flooring handmade Mexico wall sconces and pendant lights.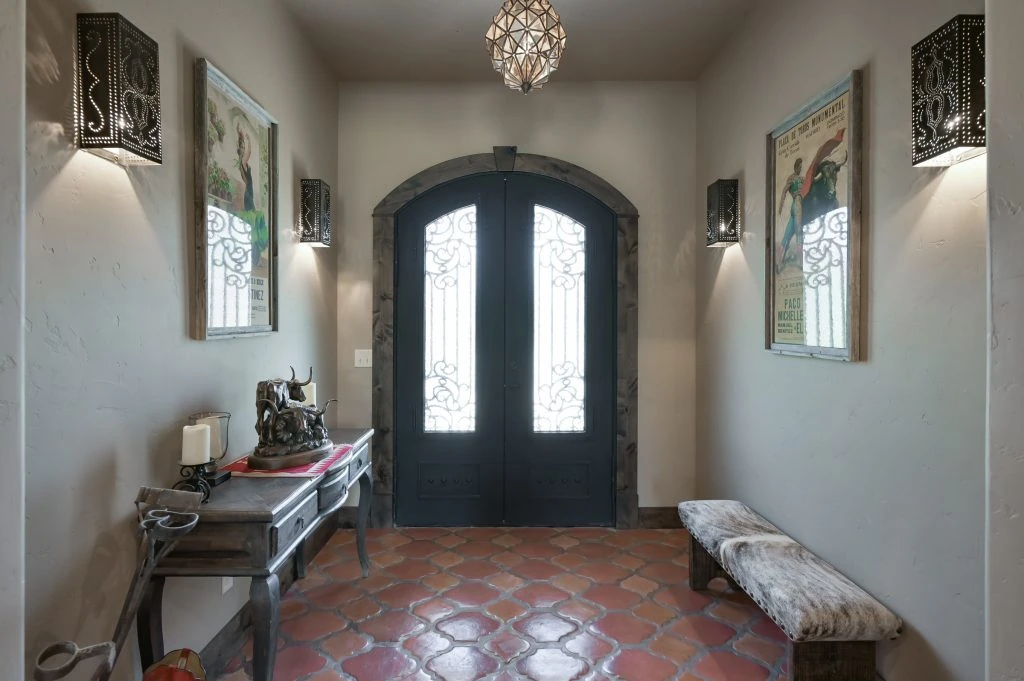 Upon entering the foyer is the spacious Hacienda Spanish Style living room where you will notice the pine v-groove ceiling with knotty alder exposed beams to stand out.
The same tile is used with a change in the pattern from the foyer.  Included are Desert Canary Design window treatments and 14' tall ceilings with transom windows for natural shaded light from the back patio.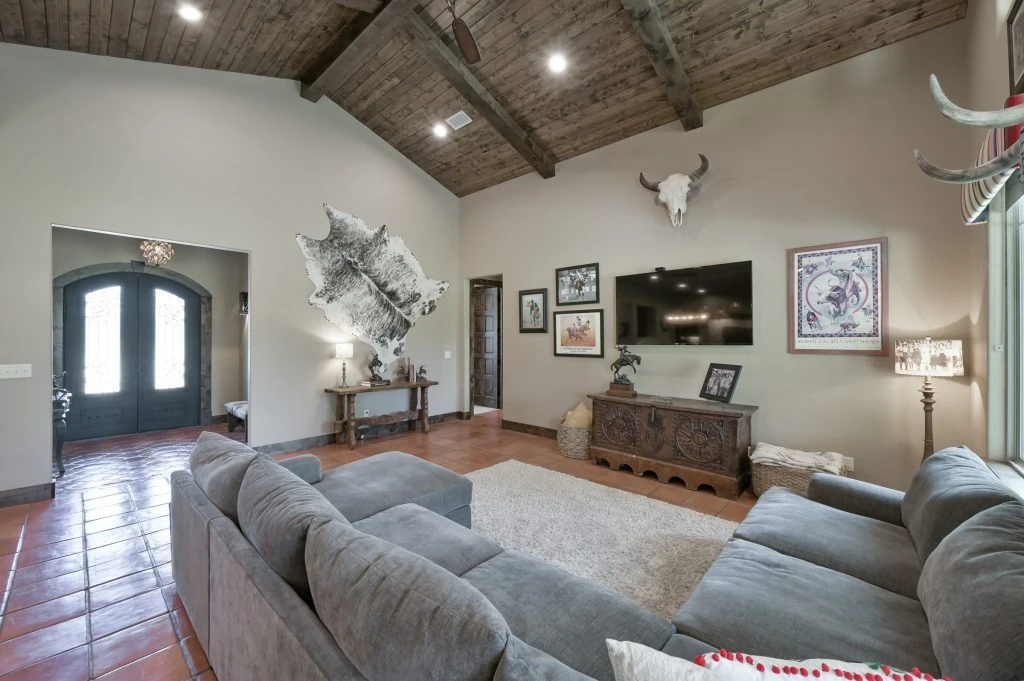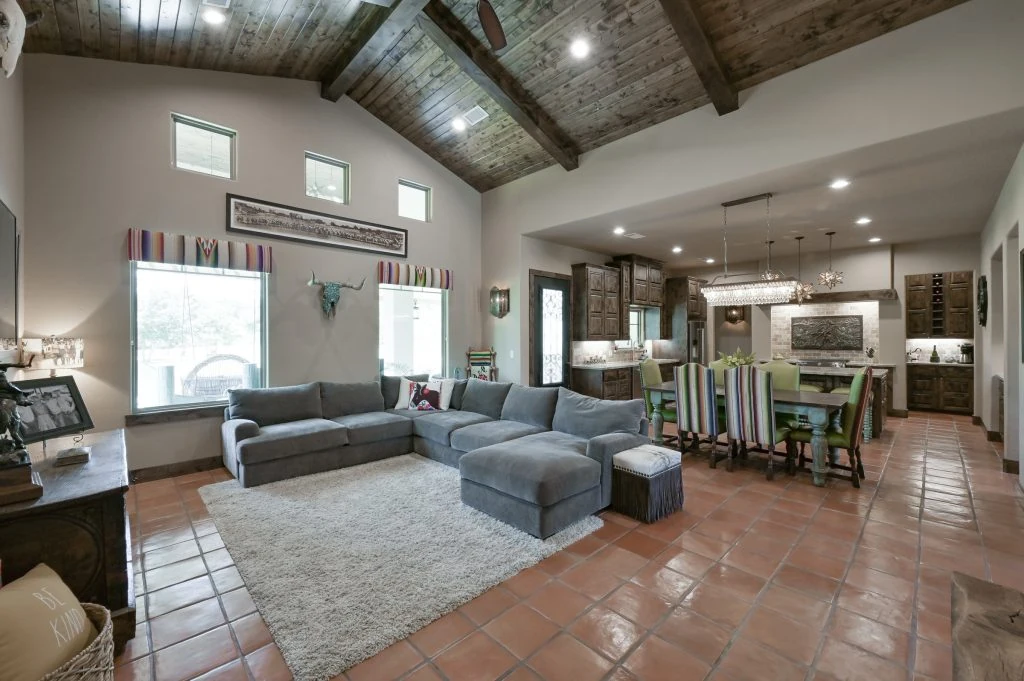 This Hacienda Spanish Style kitchen is a full of gorgeous details starting with the mirrored glass pendants handmade from Mexico over the island.   Your eyes will easily gravitate to the Amazonite countertops.
The backsplash is provided by Rick McCumber with the table and bar stools are provided by Desert Canary Design.
The knotty alder kitchen cabinets are matched with a knotty alder boxed beam above the stove alcove providing such a wonderful appeal.
It is common to build a home with a sink in the kitchen island.  Our preference was to create a larger prep or gathering area without the sink. The large window above the sink gives us a really nice view to the back yard and outdoor kitchen area.
The master bedroom is perfectly balanced with accessories such as custom window valances and bench by desert canary design.
The master bathroom has attached closets with all of the dressers built in to keep the master bedroom clear.  The jetted tub has handheld sprayer and alabaster turquoise tile.  The Sun and Moon handmade light fixtures are made in Mexico.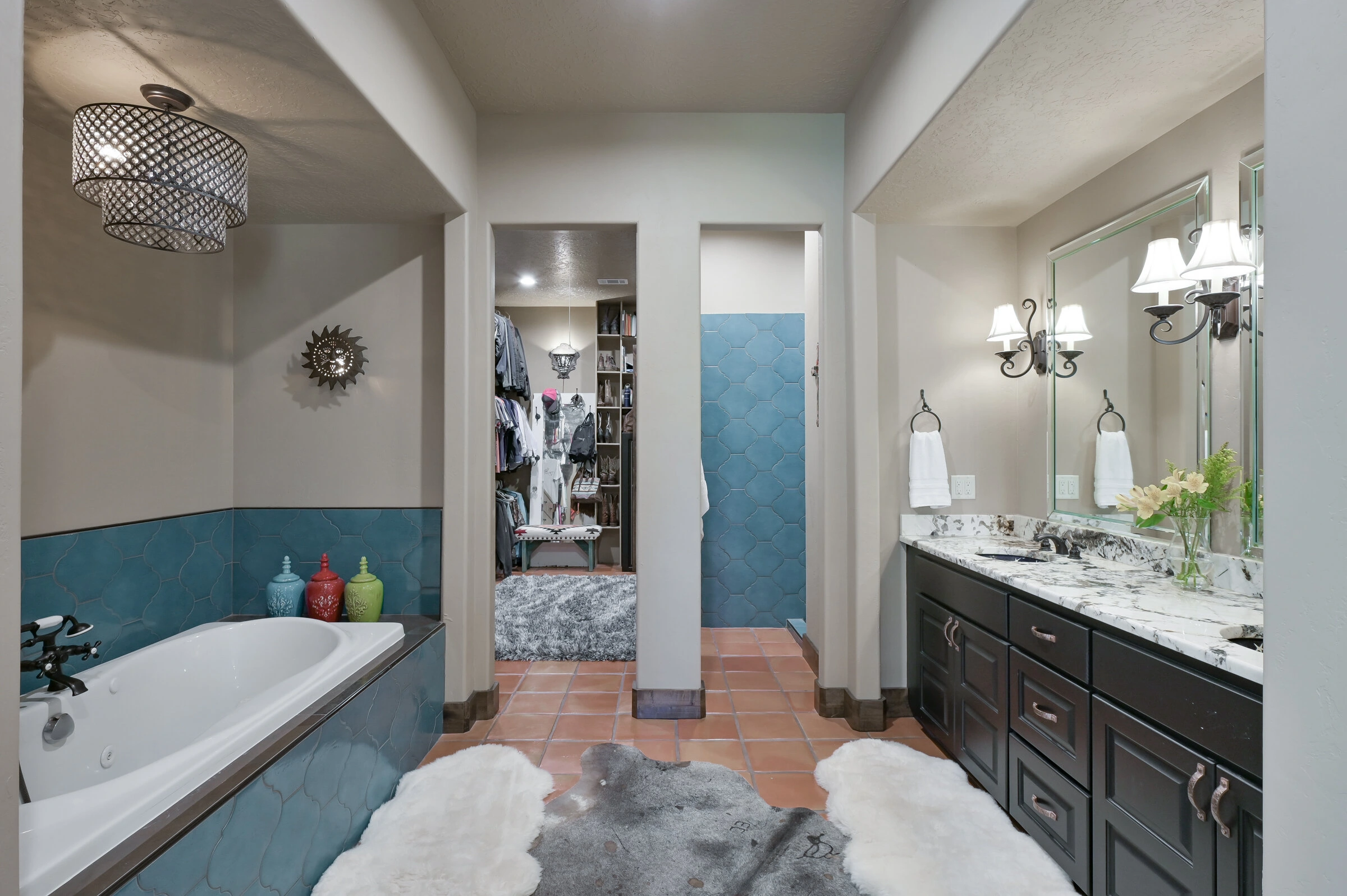 The bedrooms were made for a growing family with a child and baby in mind.
Jack and Jill bath is for the kids rooms only.  There is no main house access.  Guests will use the powder room to stay out of the kids bathroom.   The linen cabinet between the vanity sinks stores all the kids medicine, toiletries, etc., also keeps the countertops somewhat clean.   There is also a handmade metal art vanity light made in Mexico.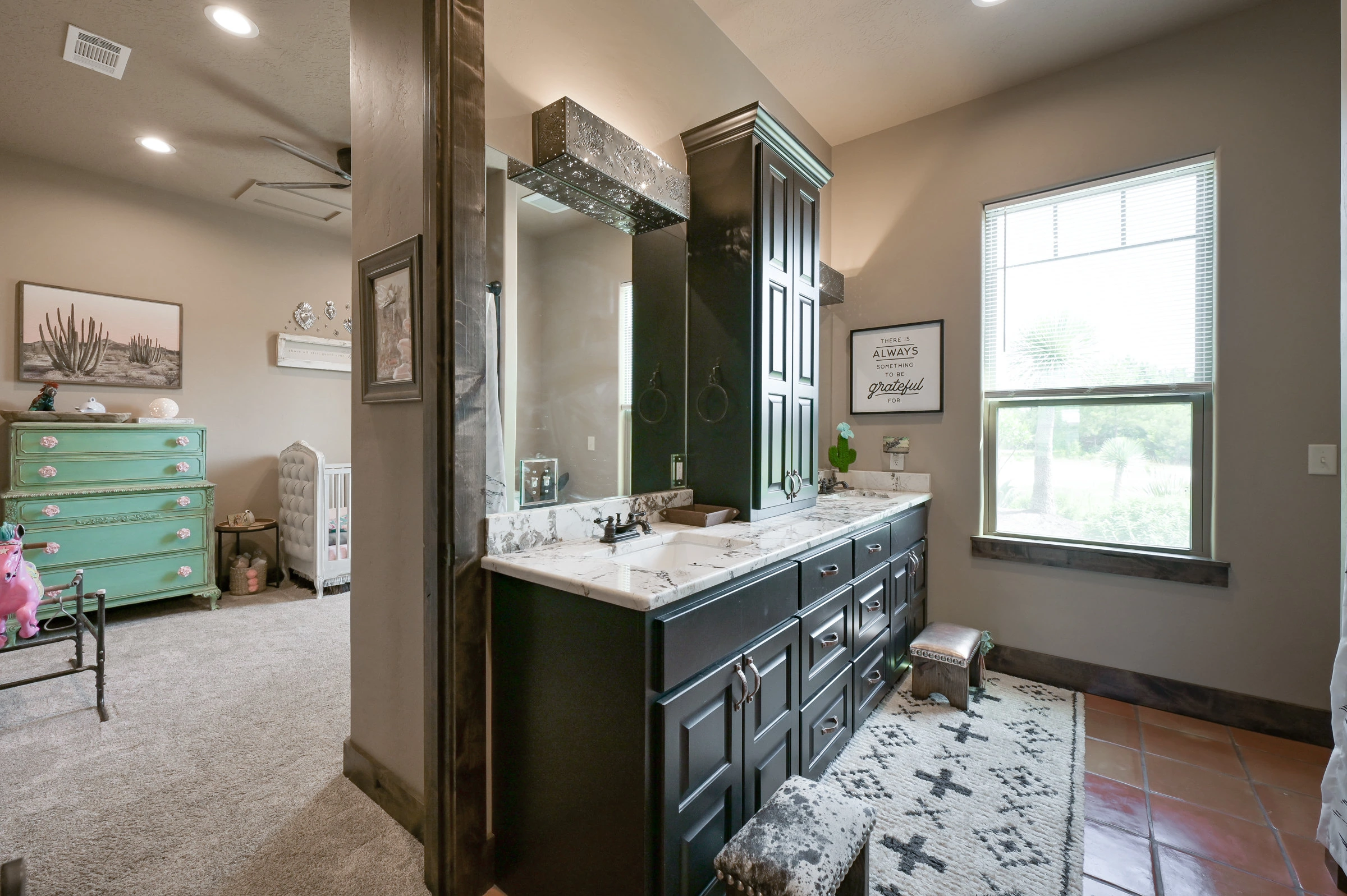 Now we head outside of this custom home build and begin with Patio with a V-groove ceiling and handmade start pendant lights from Mexico.  It also has the most awesome swing you can ever sit in provided by Around the Bend Willow Furniture.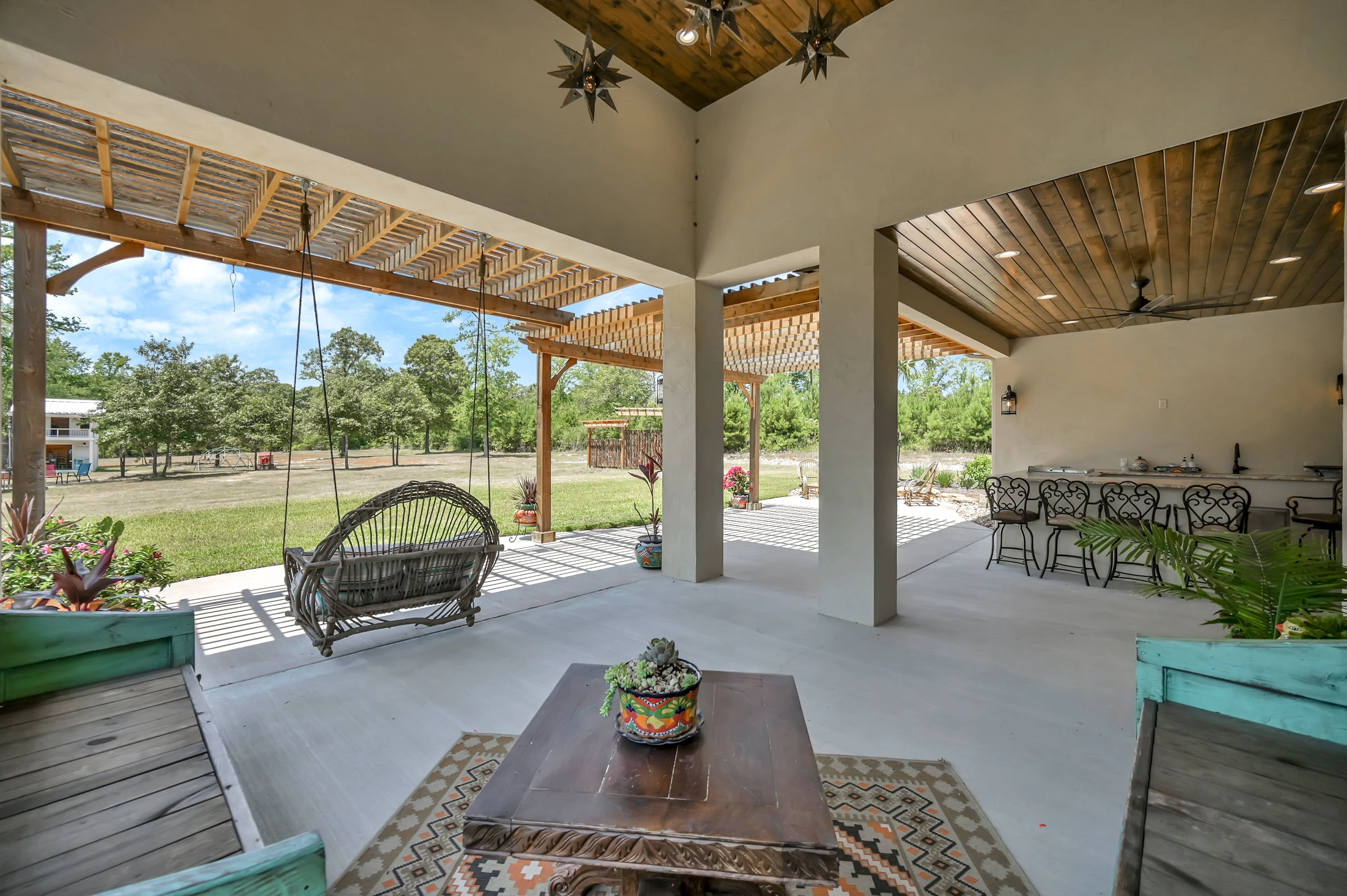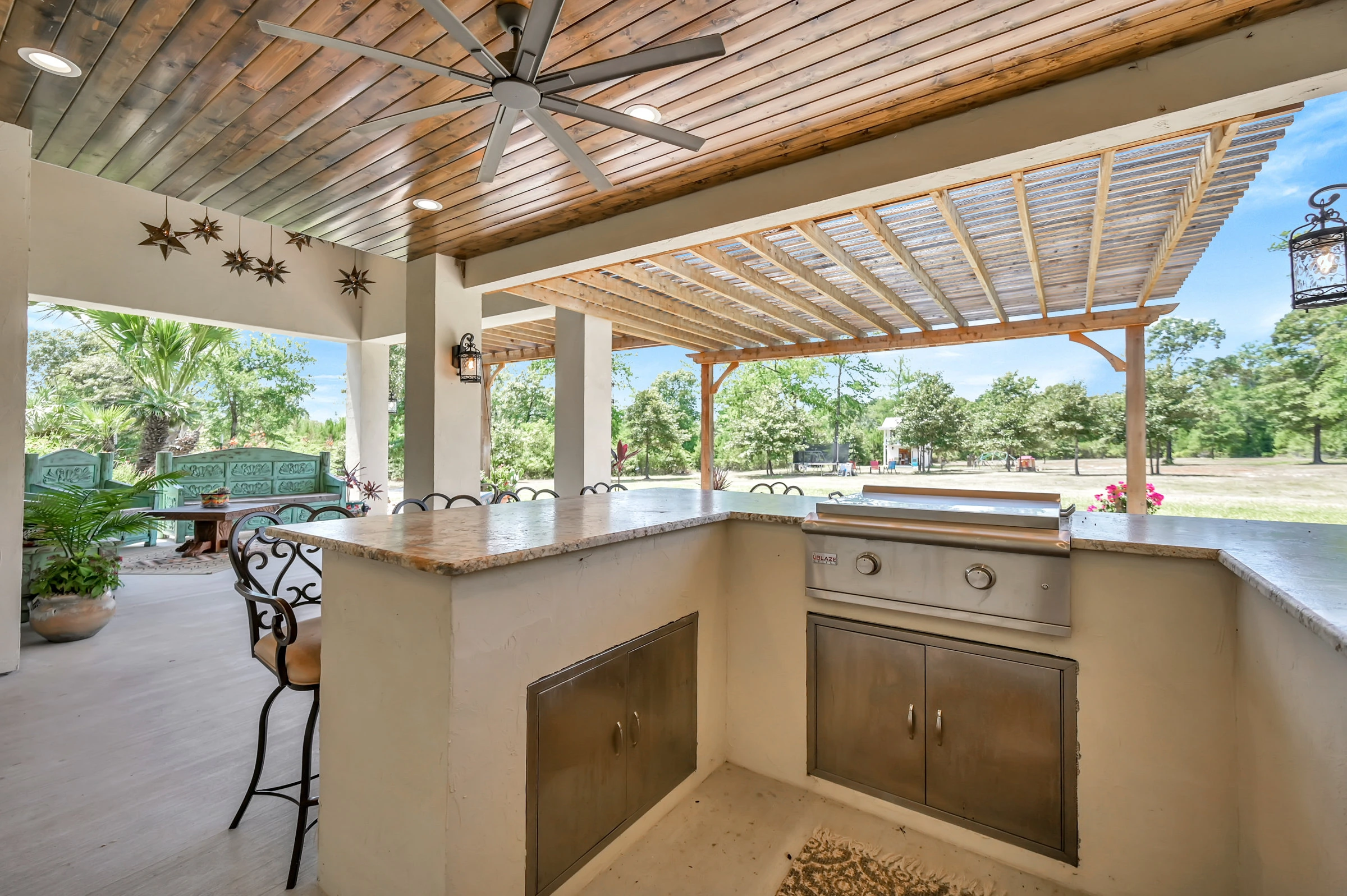 This outdoor living has an extra personal touch with hanging star lights the owners used to hang over the dance floor of their our wedding and stored for eight years while they waited to build their dream home.
We created an ideal outdoor place to simply enjoy relaxing and family time.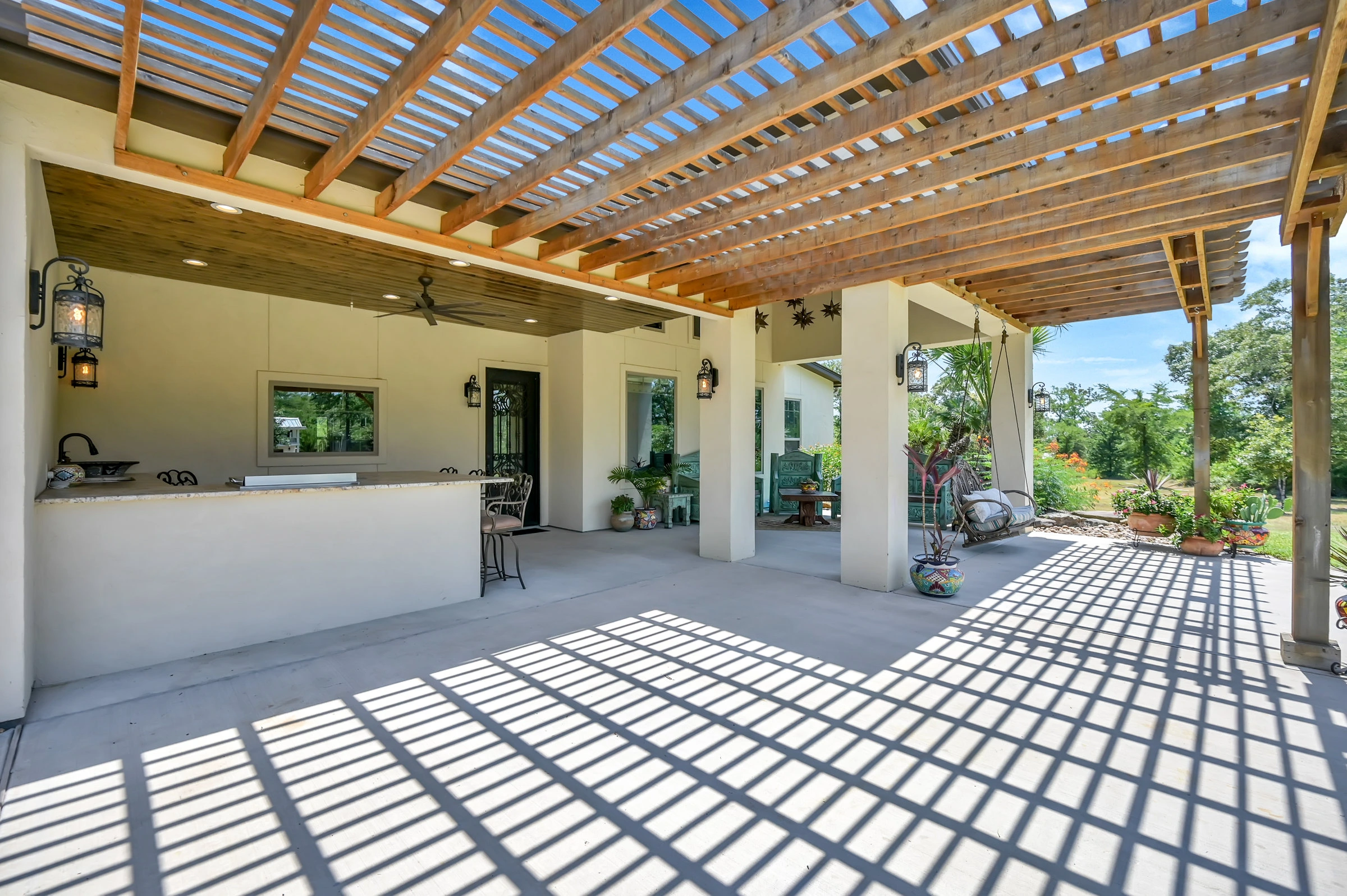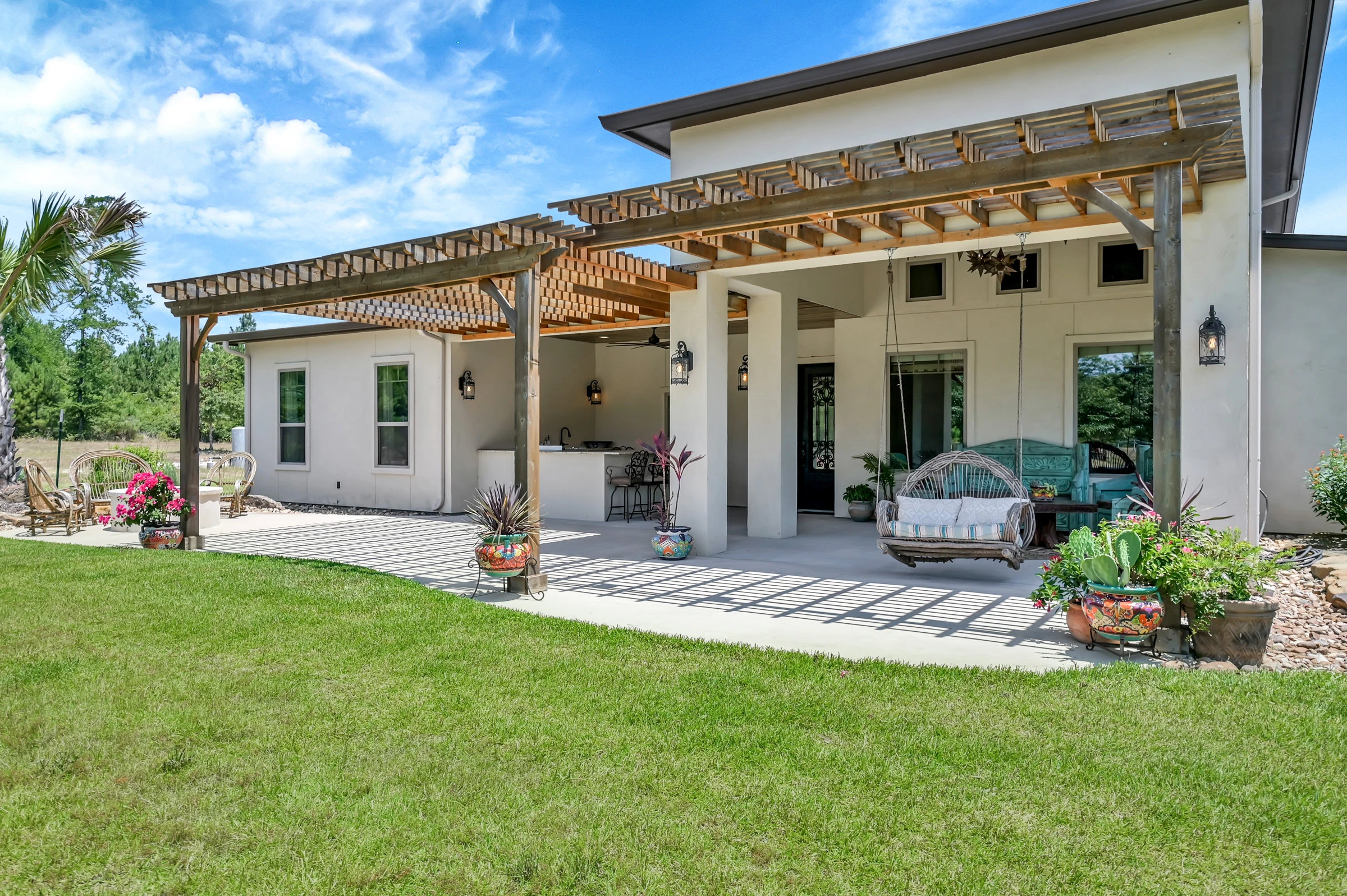 A birds eye view provides a nice perspective of this custom home build.
Whether it is the start or end of the day, we at Turnkey are so grateful to be able to have built a place where the owners can call it home for many years to come.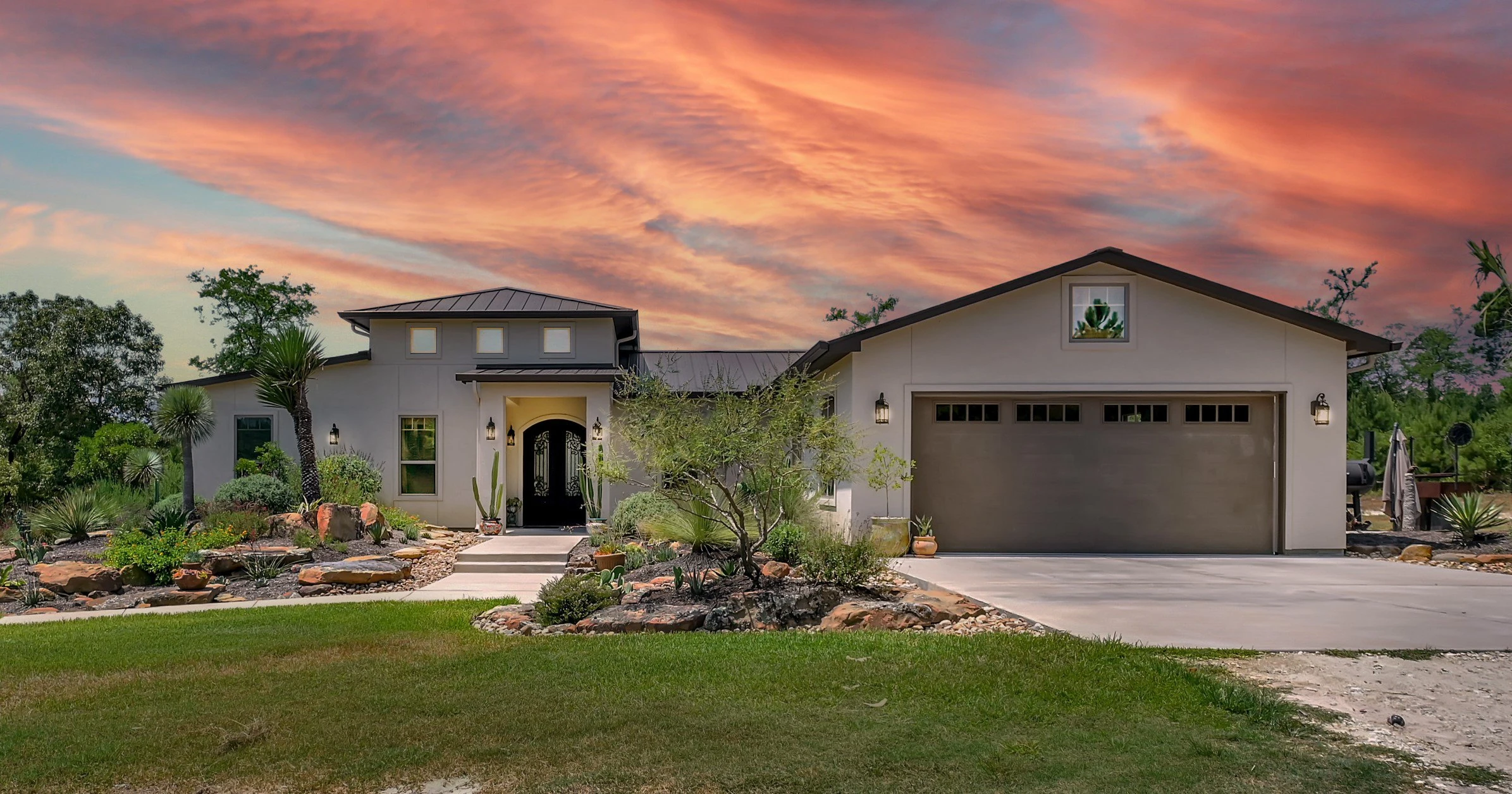 And here we include some more random images of this Custom Home Build in Huntsville.
Turnkey looks forward to meeting with you to make your new Huntsville Home Build dreams come true.